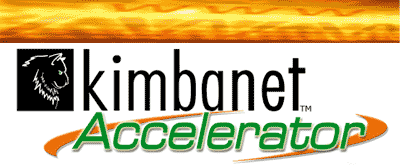 Introducing our NEW web accelerator -
Available to ALL kimbanet dial-up customers.
Includes FREE Pop-Up Blocker!
Pages load 2-5 times faster
Optimize your dial-up connection
Simple to install & easy to use with step-by-step tutorial
No additional hardware required
What is kimbanet Accelerator?
It is a subscription-based service for dial-up users that speeds up the delivery of static and dynamic Web pages across the entire Internet. The Accelerator compresses graphics and other large files as they download, then decompresses them on the fly inside your browser. The program also caches the pages on your hard drive and updates only the data that has changed, so the same site will load even faster the next time you visit.
What is the cost for the kimbanet Accelerator?
All monthly subscribers (those paying $25 per month) will receive the Accelerator at no additional charge. All other customers desiring the kimbanet Accelerator will be charged $2.00 per month, payable on a yearly basis only.
Includes FREE optional Pop-Up blocker...
The Accelerator lets you block unsolicited content, such as pop-up ads and in page advertisements, which contribute to long wait times.
Simple to install and easy to use with step-by-step tutorial...
Once downloaded the Accelerator runs a two-minute Web-based tutorial that explains how acceleration works, what content is accelerated and what is not, how to use the Accelerator menu and how to measure your acceleration.
What gets accelerated?
Most web content will be accelerated, but there are certain exceptions:
| | |
| --- | --- |
| What "WILL" be accelerated | What will "NOT" be accelerated |
| All text - HTML, markup and javascript | Streaming media, audio and video files |
| Most graphics & photos - including jpeg and gif images | Secure pages, such as those used for online banking and credit card forms and pages accessed over VPN |
| Most banner ads - included animated gif images and Macromedia Flash content | Files downloaded outside your browser using FTP |
| All browser-based emails | |
| All emails that contain images - even when read in a dedicated email program | |
| MP3 files, executables & other files - when downloaded from within your web browser (depending on the quality of your connection). | |
Requirements and Capabilities - Accelerator Download Information
| | |
| --- | --- |
| Version: | 6.0.0.1196 |
| File size: | 2.53 MB |
| Download time: | 20-25 minutes |
Compatibility
kimbanet Accelerator works with most Microsoft® Windows™ -based personal computers in use today, including virtually all PCs purchased within the last 4 years. See details below.
Platforms:

Windows 98/NT 4.0/2000/ME/XP/VISTA
(sorry, no Macintosh support yet.)

Connections:

Any low-speed Internet connection, including dial-up and ISDN

Browsers:

Virtually all browsers will work with the Accelerator. Kimbanet only offers technical support for Microsoft Internet Explorer.

Utilities:

Works with many ad blockers, popup stoppers, personal firewalls, and other utilities.
System Requirements
| | |
| --- | --- |
| Available Disk space: | 25 MB (135 MB recommended) |
| Total System memory (RAM): | 32 MB (64 MB highly recommended) |
* Kimbanet Accelerator is not designed to accelerate streaming media, audio or video files, secure pages (such as those used for online banking), downloadable files or Flash content.

...
Providing our customers with what they ask for!