Main
Doucet Hydraulically Powered Clamp Carrier
Doucet Modular Profiling and Assembly Systems
Doucet Manual Horizontal Boring Machine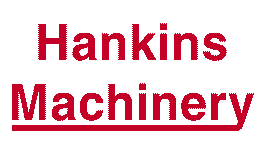 Phone - 276-638-6074
Cell - 276-732-4842
Ultraspec GN623 - Moulder/Planer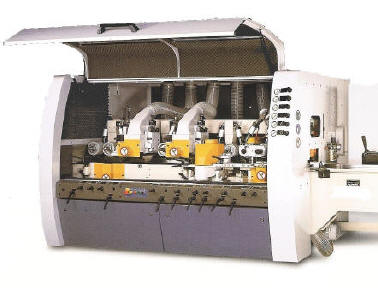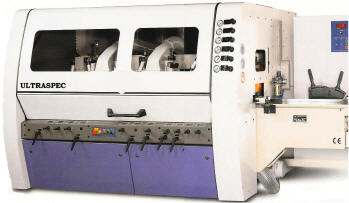 This is an excellent machine for the middle range cabinet,
mouldings, and flooring industry.
Centralized Pressure Regulators
All pressure regulators for the entire pneumatic system are located at the front right section of the machine for operator convenience

Sectional pressure adjustments to all overhead feed rollers ensure desired pressure settings.
Powered In-Feed Table Roller
Vertical Spindle Adjustment
up to 60 MM
Side Front Pressure Plate on Left Vertical Spindle
Centralized Lubrication
Separate Motor and Spindle
Separate mounting of motor and spindle eliminates spindle vibration. Fitted with a high speed belt for power transmission, this configuration enables a smooth moulding effect and close tolerance result while in heavy cutting.
Universal Spindle(Optional)
Digital Spindle Positioning Controller
Available to equip for controlling any spindle as requested.

The digital positioning controller permits fast, convenient and high accuracy spindle positioning.
Feed Magazine
Double Hold Down Pressures
Double hold down pressures can be added with the following movements of x, y & z giving independent pressure to the uneven materials such as crown moulding, chair rail, etc. While also, giving firm overhead support on the complete width of the material.
Working Width
10-230mm / 5/8-9"
Working Height
7-160mm / 3/8-6"
Number of Spindles
5-8
Motor Capacity per Spindle
10 - 15 HP
Motor Capacity of Feed
7.5 HP
Spindle Speed
6000 RPM
Spindle Diameter
1 13/16"
Tool Cutting Circle, First Bottom Spindle
125-160mm
Tool Cutting Circle, Vertical Spindles, Left
100-200mm
Tool Cutting Circle, Vertical Spindles, Right
100-200mm
Tool Cutting Circle, Horizontal Spindles, top
100-200mm
Tool Cutting Circle, Last Top Spindle
100-230mm
Tool Cutting Circle, Horizontal Spindles, Bottom
100-250mm
Feed Speed
6-30 m/min / 20-95 f/min
Pneumatic Pressure for feed rollers
6 bar / 80 psi
Adjustment range for infeed table and edge-jointing fence
12mm
Adjustment range for vertical spindles (axial)
80mm
Adjustment range for horizontal spindles (axial)
40mm
Length of Straightening Table
1800 mm
Mechanical digital readouts for the pressure shoes and hold-down unit
Full Sound and Safety Enclosure
Motorized vertical adjustment feed
Lateral pressure roller opposite first right spindle
Chainless cardan feed system

Optional Equipment

Universal Spindle

Program system provides faster setting width and thickness

Groove guide for short, twisted and untrimmed material

Setting and measuring devices

Length of feed table up to 3 meters

Increased horsepower

Electric timer for lubrication of feed table

Contact Carlton Hankins for many other models at ...
Phone - 276-638-6074
Cell - 276-732-4842

...be sure to check out
Moulder Techniques website